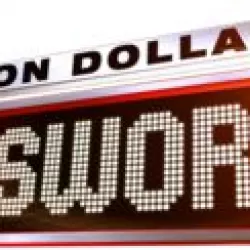 Million Dollar Password
Details:
2008 ‧ Game Show ‧ 2 seasons
Descr:
The vintage game show gets a new millennial primetime makeover, with Regis Philbin at the helm. As on the original "Password," the game features two teams, each comprised of one celebrity and one contestant, competing to guess a "password" revealed to the studio and home viewing audience. The team that earns the highest score then decides whether to keep their winnings or risk them by moving onto a suspenseful final round, where guessing a single word can earn a million-dollar grand prize.
First Episode Date:
June 1, 2008
Final Episode Date:
June 14, 2009
Presented By:
Regis Philbin
Theme Song:
Million Dollar Password Theme Song
Network:
CBS
Program Creators:
Bob Stewart, Bill Todman, Mark Goodson, Fremantle
Watch Trailer