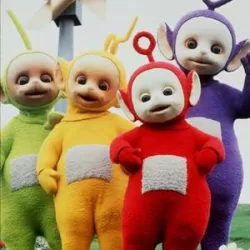 Teletubbies
Description:
Tinky-Winky, Dipsy, Laa Laa and Po frolic and play in the idyllic Teletubbyland, while a baby's face in a sun coos and laughs. The Teletubbies have televisions in their stomachs on which they watch real children. A large, pinwheel-shaped windmill begins a "magical event" during episodes.
Genre:
Family, Fantasy, Musical
Year Released:
1997
Number of seasons:
1
Number of episodes:
365
First episode air date:
March 24, 1997
Theme Song:
Teletubbies say "Eh-oh!"
Cast:
Jessica Smith, Simon Shelton, Pui Fan Lee, John Simmit, MORE
Watch Trailer