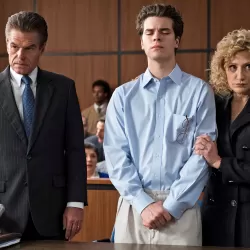 Law & Order: True Crime
Details:
2017 ‧ True crime ‧ 1 season
Descr:
When a wealthy Beverly Hills couple was murdered in cold blood while watching TV in their living room, America was shocked... but it was only the beginning of the tragic story. When it was revealed that the culprits were their two beloved sons, a media circus and national obsession were born. This eight-episode drama series explores the dark secrets and untold revelations about the family, the murder and the real-life trial that captured the country's imagination for nearly a decade. After all, everyone knows who did it, but one question still remains... why.
First Episode Date:
September 26, 2017
Final Episode Date:
November 14, 2017
Network:
NBC
Number Of Seasons:
1
Executive Producers:
Dick Wolf, René Balcer
Watch Trailer