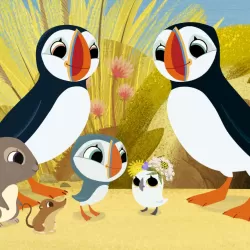 Puffin Rock
Description:
The adventures of Oona the Puffin and her little brother, Baba, on the coast of Ireland. Their family and friends learn and explore on their gorgeous and wild Irish island.
Genre:
Animation, Family
Year Released:
2015
Number of seasons:
2
Number of episodes:
79
First episode air date:
January 12, 2015
Narrated By:
Chris O'Dowd
Voices Of:
Kate McCafferty; Sally McDaid; Darragh Gargan; Anna McDaid; Laura McCallan; Brenn Doherty
Program Creators:
Tomm Moore, Lily Bernard, Paul Young
Networks:
Netflix, Nick Jr.
Watch Trailer