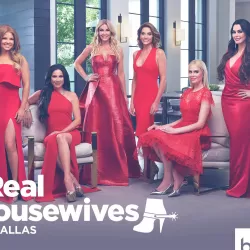 The Real Housewives of Dallas
Details:
2016 ‧ Reality ‧ 5 seasons
Descr:
Dallas is the setting for the first "Real Housewives" show that calls Texas home. People who live in the Lone Star State are full of Texas pride, and these housewives are no different. People warn others not to mess with Texas, and that is especially true when dealing with the state's socialites featured on the show. Connecticut native Cary Deuber is a certified nurse who has led a number of medical missions worldwide; "girl next door" Stephanie Hollman is actively involved in charities and isn't afraid to speak her mind; former beauty queen LeeAnne Locken has made a career out of charity work but is also known for ruffling feathers; former Dallas Cowboys cheerleader Brandi Redmond, a full-time mother who sometimes rubs the other ladies the wrong way; Kameron Westcott, who is known for her charity work; and socialite D'Andra Simmons.
First Episode Date:
April 11, 2016
Number Of Seasons:
4
Network:
Bravo
Number Of Episodes:
60
Executive Producers:
Rich Bye, Andrew Hoegl, Andy Cohen
Watch Trailer