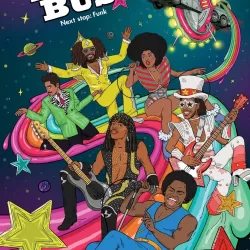 Mike Judge Presents: Tales from the Tour Bus
Details:
2017 ‧ Documentary ‧ 2 seasons
Descr:
Emmy winner Mike Judge has made a name for himself as an animator and producer ("King of the Hill," "Beavis and Butt-Head," "Silicon Valley"), but it's his lesser-known roots as a musician that equally informs "Tales From the Tour Bus." The half-hour series, which Judge co-created, executive produces and narrates, chronicles the hell-raising adventures of some of country music's legendary artists, with episodes devoted to Johnny Paycheck, Jerry Lee Lewis, Waylon Jennings, George Jones and Tammy Wynette, and others. In animated interviews, former bandmates, friends and other associates supply uncensored anecdotes about the exploits of the artists, and the tales are brought to life by animated re-enactments, live-action archival performance film and photos.
First Episode Date:
September 22, 2017
Final Episode Date:
December 21, 2018
Network:
Cinemax
Program Creator:
Mike Judge
Number Of Seasons:
2
Executive Producer:
Mike Judge
Watch Trailer