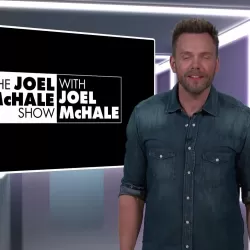 The Joel McHale Show with Joel McHale
Details:
2018 ‧ Television comedy ‧ 1 season
Descr:
In case it wasn't evident from the title, Joel McHale hosts this weekly series that takes a look at pop culture and news through celebrity guests, comedy sketches and video clips. The premise is reminiscent of one of McHale's former projects, "The Soup," but being on Netflix instead of basic cable gives McHale more leeway to be more adult-oriented than he was on that long-running show. Each episode premieres on Sunday, providing a recap of the week that was in the entertainment world. In addition to hosting, McHale serves as an executive producer of the eponymous series.
First Episode Date:
February 18, 2018
Final Episode Date:
July 15, 2018
Presented By:
Joel McHale
Director:
Liz Plonka
Network:
Netflix
Cast:
Joel McHale
Watch Trailer