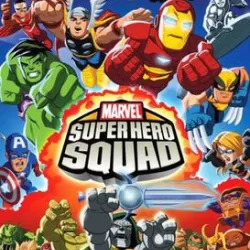 The Super Hero Squad
Description:
Marvel's iconic heroes and villains are on display in a superstylized animated series, as they battle one another for possession of the Infinity Sword, the most powerful object in the universe. A confrontation between Iron Man and Dr. Doom shatters the sword and spreads its fragments around the globe; if Doom and his minions recover the shards, life as it is known in Super Hero City will never be the same. Luckily, the city has the best heroes around, and Iron Man calls on Wolverine, the Hulk, the Silver Surfer, Thor and a hotshot flyer named the Falcon to step up and keep Doom in his rightful place.
Genre:
["Animation"]
Year Released:
2009
First episode air date:
September 14, 2009
Theme Song:
"The Super Hero Squad Show"
Cast:
Tom Kenny, Dave Boat, Steve Blum, Travis Willingham, MORE
Networks:
Cartoon Network, ABC Me, Teletoon
Watch Trailer