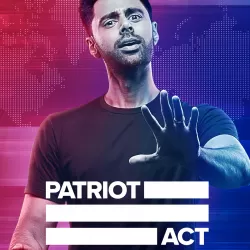 Patriot Act with Hasan Minhaj
Details:
2018 ‧ Chat show ‧ 6 seasons
Descr:
"The Daily Show" alumnus Hasan Minhaj gets the spotlight to himself -- and his name in the title -- on this Netflix original series. The Peabody Award-winning comic explores the modern cultural and political landscape with depth and sincerity. In each weekly episode, he uses his unique comedic voice and storytelling skill to investigate the larger trends shaping the fragmented world. According to Netflix, Minhaj -- who also serves as an executive producer -- is the first Indian-American host of a weekly comedy show.
First Episode Date:
October 28, 2018
Final Episode Date:
June 28, 2020
Composer:
Ludwig Göransson
Network:
Netflix
Awards:
Peabody Award - Entertainment, Primetime Creative Arts Emmy Award for Outstanding Motion Design
Program Creators:
Hasan Minhaj, Prashanth Venkataramanujam
Watch Trailer