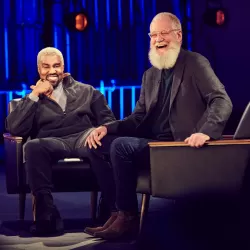 My Next Guest Needs No Introduction with David Letterman
Details:
2018 ‧ Chat show ‧ 3 seasons
Descr:
For more than 30 years, David Letterman came into viewers' homes every weeknight, first as host of "Late Night," then on "Late Show." But his fans won't have to stay up late to catch his first major project since retiring from the late-night scene -- hosting a Netflix-original talk show. As the title suggests, there won't be little-known celebrities on this show that features in-depth interviews with guests who Letterman finds fascinating. Each episode includes a far-reaching conversation with a single guest. The intimate conversations take place both inside and outside of the studio, and folks who enjoy Letterman's non-interview segments will get some of that. While there's no monologue, there are field pieces that bring Dave to locations that help him express his curiosity and to dig deeper on a specific topic related to that episode's guest. The A-listers who chat with Dave include former President Barack Obama, George Clooney and Howard Stern.
First Episode Date:
January 12, 2018
Presented By:
David Letterman
Network:
Netflix
Number Of Episodes:
15 (+ 3 specials)
Composer:
Paul Shaffer
Executive Producers:
Lydia Tenaglia, Aaron Bergeron, MORE
Watch Trailer